DC Cooling Fan
Our DC cooling fans have features such as high airflow, high reliability, and low noise. They can be used in a wide-ranging applications including servers and ICT equipment.
Lineup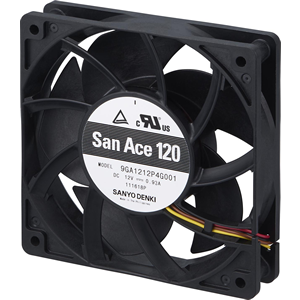 High Performance Achieved as Fruits of Our Technological Innovations
The San Ace DC Fans feature industry-leading high airflow, high static pressure, low power consumption, and low vibration. In the development phase, we thoroughly reviewed impeller shape, motor characteristics, operating airflow, and expected life to achieve target performance. We realized excellent cooling performance by leveraging our technology accumulated over a long period of time.
Rich Product Lines and Many Size Options Available
The San Ace DC cooling fans are available in more than 80 frame sizes with a variety of airflow and static pressure. Also, we have the following product lines available to match various customer needs.
DC Fan
Low Power Consumption Fan
Silent Fan
Splash Proof Fan
Oil Proof Fan
Long Life Fan
Counter Rotating Fan
Blower
In addition, we also provide a service to manufacture fan units tailored to equipment specifications and requirements, aiming to meet all product development needs.
Short Lead Time Service for Shortening Customer Development Periods
The service applicable models can be shipped the same day as ordered at the earliest, and within 5 business days at the latest. If you are in urgent need of cooling fans for a new product development, this service can contribute to shortening the development periods.
Fan Options for Safety and Fan Protection
We have a variety of fan options available, such as finger guards to protect fingers from rotating blades, resin filter kits to prevent dust inside equipment, and EMC guards to protect fans from electromagnetic noise that causes electrolytic corrosion. This allows you to make a choice best suited to your specific operating needs.
Control and Sensor Options Available for Various Applications
A pulse sensor for detecting fan speed can be offered for all models. In addition, we also have a locked-rotor sensor for detecting fan rotation stop, low-speed sensor for detecting when the fan speed falls below a certain level, and PWM control function for remotely controlling fan speed.