SANUPS A11J(3-phase 4-wire)
Double conversion online UPS for servers and network environments
Advanced Search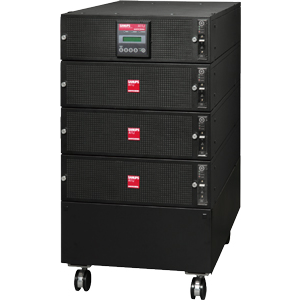 High Reliability
Parallel redundant operation further improves the reliability of the power supply.
Battery self-tests can be performed automatically at regular intervals, ensuring reliable operation in the event of a power failure.
Flexible System Configuration
The output capacity can be expanded up to 45 kVA.
All system components are compatible with 19-inch racks.
Wide Input Range
When the load level is 70% or less, the input voltage ranges from -40% to +15%.
This helps reduce battery drain in regions with unstable power conditions.
Easy Maintenance
The battery and inverter modules can be removed from the front of the UPS for easy maintenance.
This front-access module design permits maintenance even during inverter operation.
Maintenance can be performed without interrupting the inverter power to critical loads during parallel redundant operation. In addition, power can continue to be supplied even if an outage occurs during maintenance.
Furthermore, the built-in maintenance bypass circuit allows maintenance to be performed while power is being supplied even if the inverter is stopped.
Contacts