SANMOTION G
This is a brand new compact, lightweight, and energy-efficient AC servo system with evolved servo performance. This servo system provides high-speed and high-precision control of equipment, greatly improving the productivity and processing quality. It has various safety functions to ensure the safety of operators, such as monitoring of power supply status and communication quality, estimation of the remaining life of the holding brake, and prevention of electronic component failures.
Lineup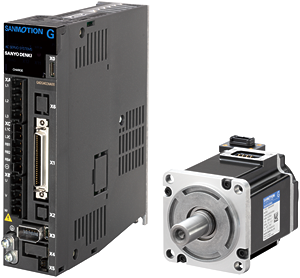 Lineup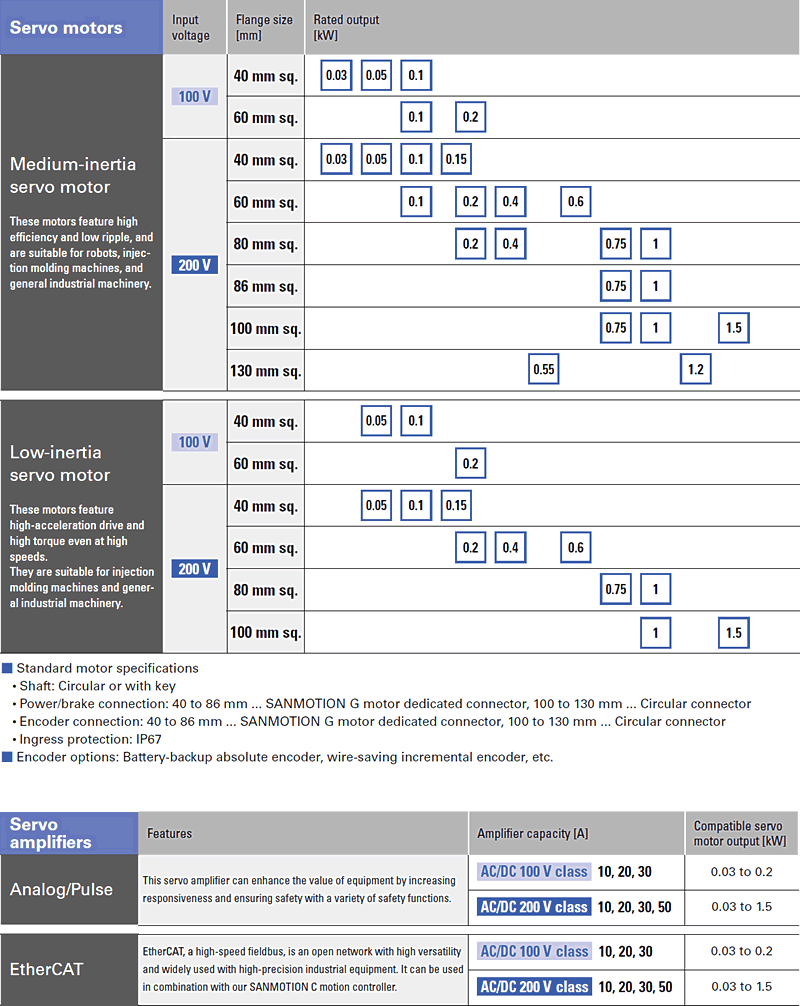 Features
Speed Frequency Response
With newly developed current control, speed frequency response has been increased to 3.5 kHz (1.6 times higher than our conventional product*) This helps improve the processing quality of machinery.

The Positioning Settling Time
By accurately detecting and compensating for Coulomb friction, viscous friction, and the force of gravity, the positioning settling time has been shortened 5.5 ms, which is 1/3 that of our conventional product.*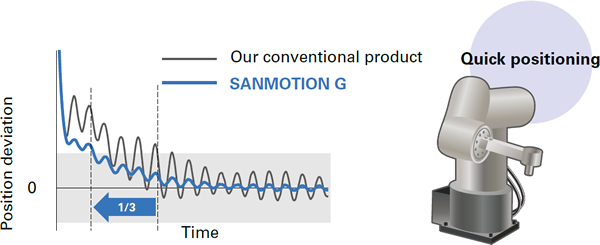 Extended output range at high speeds
The servo motor's maximum speed has been increased from 6000 min-1 to 6500 min-1 compared to our conventional product.*
A combination of a new PWM control and the faster motor speed has expanded the motor output range, speeding up the system without using a larger motor.
Moreover, the motor has low cogging effect and low heat generation.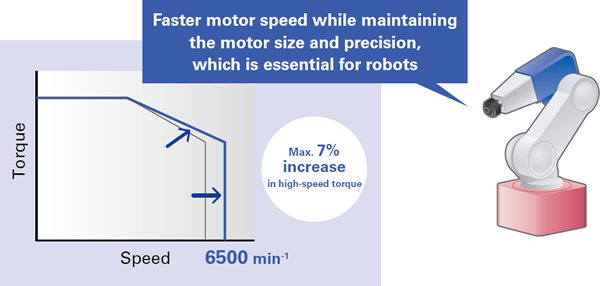 The High-Resolution Encoder
This product comes with a 23-bit encoder as standard (64 times that of our conventional model*), and even an encoder with a maximum of 27-bit high resolution can be selected as an option. The high-resolution encoder enables high-precision, stable positioning.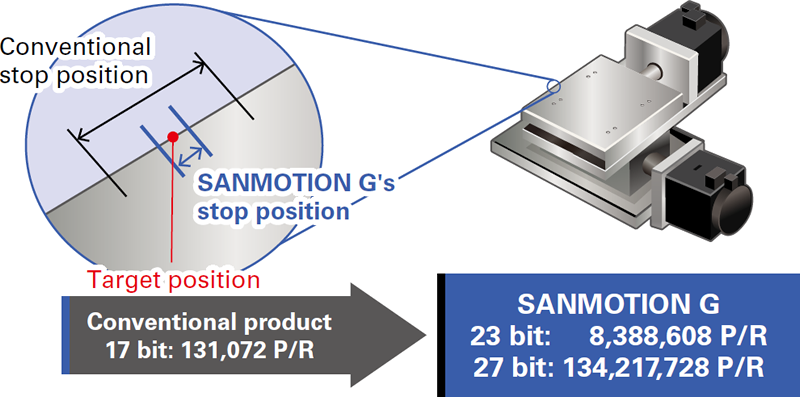 Improved Reliability and Maintainability
Failure of holding brake and electronic components can be prevented by predicting the remaining life of the holding brake, in systems where braking is needed, and by optimally controlling the inrush current limiting circuit.

The monitoring of the main circuit input voltage and the detection of overvoltage in the control circuit power supply can be performed. Early identification of faults can help shorten system downtime.
The quality of encoder and EtherCAT communication can be diagnosed. The impact on communication quality due to noise and installation environments can be monitored, contributing to improving the environmental durability of the system.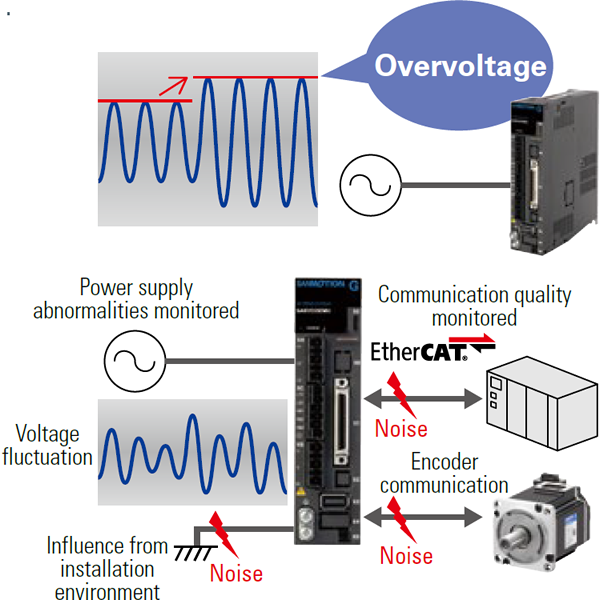 Usable in Various Environments
The vibration resistance of the servo motor and amplifier has been improved two-fold and 20%, respectively, compared to the conventional products.*
The operating temperature range of the servo amplifier has been extended by approximately 10%, covering from 0 to +60˚C. This allows the amplifier to be used at a high altitude of 2000 m above sea level.
With improved environmental durability, this product can be used in a variety of regions and environments.
Compact, Lightweight, and Energy-saving
Compared to the conventional products,* the motor and amplifier have been made lighter by up to 28% and 5%, respectively, and the overall motor length has been shortened by up to 22%.
Furthermore, the energy loss of the motor and amplifier has been reduced by up to 8% and 22%, respectively, and brake power consumption has been reduced by up to 44%.
This greatly contributes to the downsizing, weight reduction, and energy savings of your equipment.

Easy and User-friendly
A single cable can connect both the motor power and brake connections and the connector orientation can be changed for easy wiring.
This product can measure the frequency characteristics of equipment with high precision and optimize servo parameters automatically, making start-up easy.
Both the servo motor and servo amplifier are designed to be compatible with the conventional products* for easy replacement.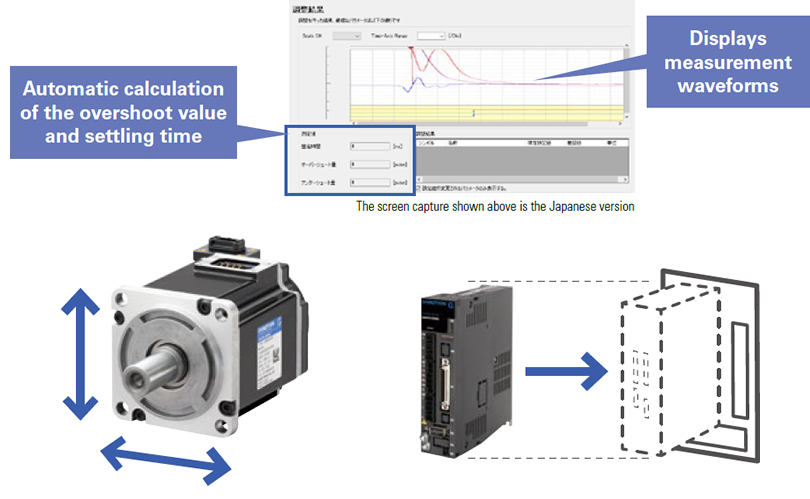 * Conventional product: SANMOTION R AC servo systems
Applications