SANMOTION F2 ( 2-phase )
With high torque, low vibration, low noise, and high resolution. Their rich lineup is used in a wide range of fields.
Lineup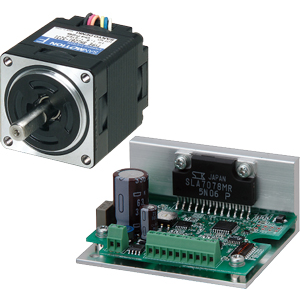 Rich lineup
0.9°step angle type
The high resolution model realizes a dramatic reduction of vibration and noise by changing the basic step angle from 1.8°to 0.9°(Approximately 80% reduction in vibration at 42 mm sq.). Enables smooth driving and accurate positioning.
Thin type
This high-performance thin stepping motor effectively uses device space. Depending on the torque required, four motor lengths can be selected.

14 mm compact type
The flange size and weight are both the smallest in the industry*1, at 14 mm and 28 g, respectively. Though small, it maximizes torque, and positioning can be performed with high accuracy. Two types of output shaft are available: single-shaft and dual-shaft.

*1 As of March 1, 2017.

Mounting surface damper (Option)
The rubber material of the damper suppresses the transmission of motor vibration to equipment, suppressing noise.
Strong support for product development with abundant technical knowledge and know-how
The SANMOTION F2 series offers a wide variety of models that can be selected to meet the needs of the application. In addition, motors can be customized according to customer needs, such as with hollow shafts, connectors, or adapted for use in vacuum environments.