SANMOTION F3 ( 3-phase )
Low introduction cost, with vibration characteristics similar to standard 5-phase motor driving. Combines high accuracy with high precision and cost performance.
Lineup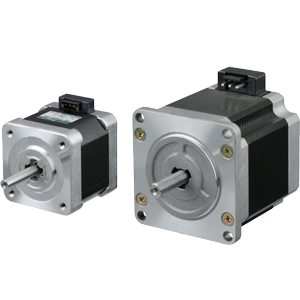 Vibration and noise performance comparable to standard 5-phase motor driving.
The current ratio of the winding can be adjusted by combining with a micro-step 3-phase driver. Since the step angle can be finely divided, it generates vibrations similar to those of 5-phase stepping motors, and superior to 2-phase stepping motors. Low vibration, low noise, and low cost compared to 5-phase stepping motors. And, with only 3 lead wires, wiring work is reduced.
Standard specification meets international safety standards
Standard SANMOTION F series stepping driver models comply with international product safety standards (UL standard).
Options
A wide range of options are available, such as breakers that block circuits and protect power lines from overcurrent, and noise filters that prevent power line noise. Moreover, they have high versatility, and can be connected to other products using various optional cables and connectors.
Rich lineup supports product development
The SANMOTION F3 standard lineup consists of 8 models, with single- and dual-shaft types, each of which is available in 42, 50, 56, and 60 mm sq. sizes. Selection can be made to suit the application. As the leading Japanese manufacturer of 3 phase stepping motors, we support our customer's equipment design from selection to production.