SANMOTION T
DC Servo Systems with excellent stability at low speeds, that achieve high precision positioning when combined with high-resolution encoders. Also, with control functions and a variety of user support functions, it is possible to easily set up for optimum operation.
Suitable for measuring devices and general industrial machinery.
Lineup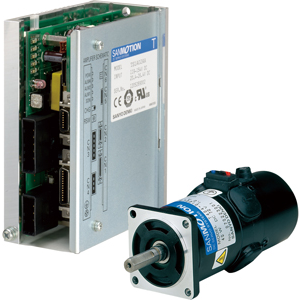 Stable low speed operation
DC servo motors have excellent electrical response when stopped or at low speeds because of their low electrical time constant.
By reducing cogging torque, stable operation with low speed ripple can be obtained, even at low speeds. In addition, a high performance tachogenerator and high resolution encoder can be installed to detect and suppress low speed ripple.
Compatible with low-voltage specifications
23, 40, and 60 W motors can be selected with 24 V motor winding specifications.
With a low power supply voltage, it is easy to miniaturize servo amplifiers. Also, because of excellent safety characteristics it is suitable for applications where safety standards are strict, such as medical machines.
System accuracy improved by damping control and disturbance suppression function
With feed-forward vibration suppression control, vibrations at the end effector and base can be suppressed. In addition, in multi-axis configurations the disturbance observer suppresses vibrations from other axes. Also, a 4th order notch filter reduces phase delay to suppress mechanical resonance, and improves equipment speed response.
These features improve system accuracy and shorten cycle times.
Easy setup and tuning on PC
From setting parameters to a test run with the jog function, initial setup can be easily performed from a PC. A new auto-tuning algorithm improves system response by providing functions such as inertia identification and parameter setting.
Support functions, such as a waveform tracing function and a system analysis function that clearly displays monitored waveforms such as position, speed, and torque, provide powerful system tuning support.
SANMOTION T Servo Amplifiers use the same setup software as our SANMOTION R AC Servo Systems.
Achieves a 30% reduction in power loss, contributing to reduced running costs
Power loss in the main circuit is reduced by 30% through the introduction of a low-loss power module. It is both smaller, and more efficient. Contributes to reduced running costs.
Both amplifiers and motors conform to international product safety standards
Our standard servo amplifier has attained the UL, c-UL, and EN standards, and servo motors that have attained the EN standard can be selected.
All models conform to the IP43 Protection Code
All models conform with the IP43 water and dust protection rating, and can prevent the ingress of dust, oil, and water droplets.
* Except shaft openings and connector ends.