SANMOTION C
Ultra-compact SANMOTION C motion controllers featuring high-speed EtherCAT fieldbus are available in a high-performance type for controlling robots and a standard type that specializes in PTP (Point-to-Point) positioning. They are suitable for motion control applications such as robots, conveying machines, and semiconductor manufacturing equipment.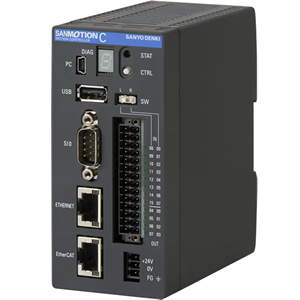 Compact Motion Controllers
These ultra-compact motion controllers measure only 120 mm (H) × 55 mm (W) × 110 mm (D).
Their small footprint design supports space saving and cost reduction.
Flexible System Configuration
The new lineup features two types: an A type which can control robots and electronic cams, and a B type which specializes in PTP motion.
It is possible to control I/O signals while performing complex multi-axis motion and robot control. This enables flexible system configurations for a variety of applications and functions.
IoT-enabled(1)
Ethernet, RS-485, and USB interfaces for connecting to various peripherals come standard. It is also possible to use Modbus TCP over Ethernet.
The new models also conform to machine-to-machine (M2M) communication standard OPC-UA(2) to seamlessly connect to various devices.
In addition, with the web server function, it is possible to monitor the operational status, and read and write program variables using a standard web browser on any PC. These models make it simple to integrate IoT technology into any system.
(1) Internet of things: A system that connects electronic devices to a network so that they can communicate, interact, and be mutually controlled.
(2) Object Linking and Embedding for Process Control - Unified Architecture: Data interoperability standard.