SANMOTION C
Motion controllers that seamlessly integrate motion control, robot control, and sequence control. Structured programming with standardized PLC programming languages simplifies program development, and contributes significantly to making software assets shareable. In addition, the easily expandable modular hardware structure makes customization with a high degree of freedom possible.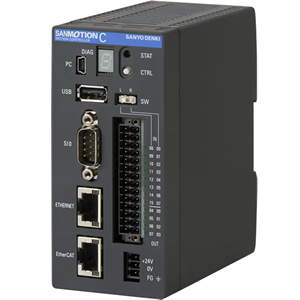 Physical wiring is networked, reducing cabling
SANMOTION C is compatible with the EtherCAT, and can be used with reduced wiring. This frees users from complicated wiring and greatly reduces maintenance hours.
Software assets are shareable using a global standard PLC programming language
The PLC programming language IEC 61131-3, proposed by PLCopen, enables use of 5 languages; IL, LD, FBD, ST, and SFC. This improves programming efficiency and the sharing of software assets.
Integrated development tool software SANMOTION C Software Tool
We provide software with a variety of system development functions.
Programming Tool
Electronic Cam Editor
Configuration Tool
Simple HMI Tool
Analysis and Diagnosis Tool [SCOPE]
Easy to operate touch panel*1
It is easy to operate the touch panel screen by selecting from images of a wide variety of parts.
Development time can be shortened by using the touch panel's simulation function.
The high resolution screen is easy to see, and provides excellent operability.

Support for system development
We conduct separate training seminars. These can be offered in a variety of formats, depending on the customer's needs. We also undertake contract system development in the form of joint development, and can help you shorten development periods and develop new products.
Industry's smallest*2
120 mm (H) × 55 mm (W) × 110 mm (D) ultra-compact motion controllers
Their small footprint design contribute to space-saving and system cost reduction.
Flexible system construction
The new lineup features two types: an A type which can control robots and electronic cams, and a B type which specializes in PTP motion.
It is possible to control I/O signals while performing complex multi-axis motion and robot control. This enables flexible system configurations for a variety of applications and functions.
IoT*3 enabled
Standard models are equipped with Ethernet, RS-485, and USB interfaces for connecting to a variety of peripherals.
It is also possible to use Modbus TCP over Ethernet. The new models also conform to the OPC-UA*4 machine-to-machine (M2M) communication standard to seamlessly connect to a variety of devices.
In addition, with the web server function, operational status can be monitored and program variables read and written using a standard PC web browser. This simplifies building systems with IoT technology.
*1 Option for SANMOTION C EtherCAT interface model
*2 Compared with digital I/O motion controllers capable of sequence, motion, and robot control in one unit. Based on our own research as of October 10, 2018.
*3 Internet of things: A system that connects electronic devices to a network so that they can communicate, interact, and be mutually controlled.
*4 Object Linking and Embedding for Process Control - Unified Architecture: Standard for data interoperability.