Splash Proof ACDC Fan
This is a water-resistant fan that can be driven by AC power.
This fan has excellent waterproof and dustproof performance while achieving high airflow, high static pressure, low noise, and low power consumption as well.
Lineup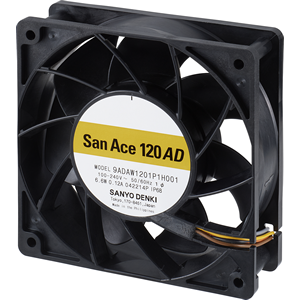 Superior DC Fan Performance Realized with AC Power Input
This fan internally converts AC power to DC power. DC fan advantages such as low power consumption and long life can be enjoyed with AC power input. We optimized its circuit system and carefully selected components to realize a compact AC-DC conversion circuit small enough to fit in a fan frame.
Low Noise and Low Power Consumption
We successfully reduced fan power consumption by optimizing the conversion circuit and motor drive circuit. Also, the PWM control function enables the control of fan speed, contributing to lowering noise and improving energy efficiency of devices.
Wide Input Voltage Range Ensures Stable Operation
Its input voltage ranges from 100 to 240 VAC, therefore is compatible with both 100 and 200 VAC systems. Regardless of the input voltage and frequency, fan speed can be kept constant. Unlike AC fans, the same fan performance can be maintained anywhere.
Water and Dust Resistance
This fan comes with IP56 or IP68-rated water and dust protection. This ensures stable fan operation even in harsh environments.
Note: The degree of protection (IP code) is defined by IEC 60529 (International Electrotechnical Commission).
IP56:
・Protection against a level of dust that could hinder operation or impair safety
・Protection against high pressure water jets
IP68:
・Complete protection against dust
・Protection against submersion in water
IPX8 Requirements:
When the power is off, the fan is submerged in water pressurized to the equivalent of 2 meters for 60 minutes.
Then it's run for 15 minutes at the rated voltage in free-air. During the test, there shall be no reduction in dielectric strength or fan characteristics.