Centrifugal Fan
Centrifugal Fans blow air perpendicular to the inlet direction. They particularly excel in static pressure, and are ideal for cooling high mounting density equipment including servers storage systems, and heat exchangers.
Lineup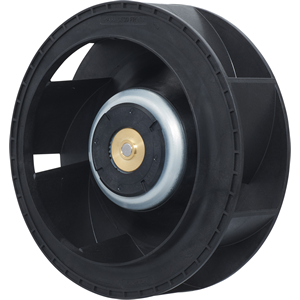 Impeller Shape Optimized with Technology
Since SANYO DENKI developed the first cooling fan in Japan, we had provided numerous fans for a variety of fields including industrial equipment, ICT equipment, and medical equipment. Based on these years of experience and achievements, we designed fan impeller to maximize fan performance. This resulted in our Centrifugal Fans that realize high airflow and high static pressure while achieving low noise too.
Thorough Review of Motor and Circuit Design Increased Efficiency
By thoroughly reviewing the motor and circuit design, we successfully improved efficiency and achieved low power consumption.
Low Noise and Power Consumption Achieved with Airflow and Static Pressure Maintained
In the development phase, reducing fan power consumption was the primary target. In order to achieve it while satisfying the required airflow, static pressure, and noise level, we explored a number of creative approaches. As a result, we successfully produced Centrifugal Fans that realize low power consumption as well as high airflow and static pressure.
PWM Speed Control for Even Reduced Noise and Power Consumption
For PWM control compatible models, fan speed can be remotely controlled. Fine control of fan speed for any given conditions enables reduced power consumption and noise level of the whole system.