Long Life Fan
Long Life Fans are operable continuously for over 20 years, and are suitable for equipment that must operate without maintenance for extended periods. Such applications include servers, communications equipment, and various industrial equipment.
Lineup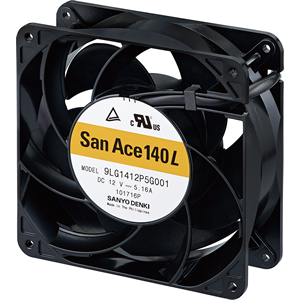 Expected Life of up to 200,000 Hours Achieved
SANYO DENKI's cooling fans are characterized by best-in-class high airflow, high static pressure, low power consumption, and low vibration. To add a long life feature to these, we reviewed the structure of our conventional fans and developed a new drive circuit. Moreover, we successfully improved reliability by designing a structure that suppresses the temperature rise of bearings. These lead us to achieve an expected service life as long as 200,000 hours.*
* L10 life hours: 90% survival rate for continuous operation in free air at 60˚C, rated voltage
Ideal for Devices That Must Operate without Maintenance
This fan is suitable for cooling equipment that needs to operate without maintenance for extended periods of time. Moreover, this fan makes equipment installed in a place where maintenance work is difficult maintenance-free.
Wide Range of Products Available to Match Equipment Characteristics
Our abundant product lineup ranges from 40 mm sq. fan ideal for 1U rack to ⌀172 mm sized fan with massive airflow. We have a variety of models available for applications from small, flat-shaped devices to large-scale machines.
Control and Sensor Options Available for Various Applications
For PWM control compatible models, remote control of fan speed in response to device conditions is possible. This realizes reduced power consumption and noise level.
We also have models with various sensors available including a pulse sensor for detecting fan speed and locked-rotor sensor for detecting the rotation stop of a fan.
Note: Availability of sensors varies by model. Contact us for details.
Abundant Options Available for Selection
We have a variety of fan options available, such as finger guards to protect fingers from rotating blades, resin filter kits to prevent dust inside equipment, and EMC guards to protect fans from electromagnetic noise that causes electrolytic corrosion.
Short Lead Time Service for Speeding up Businesses
The service applicable models can be shipped the same day as ordered at the earliest. It contributes to shortening your development periods.
Note: Earliest shipping date for orders received by 12 pm (noon).
Contact us for details.