Splash Proof Blower
Blowers feature high static pressure.
It is suitable for cooling and ventilation applications that require high reliability even in harsh environments.
Lineup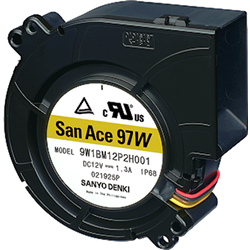 Water and Dust Resistance
Its IP68-rated water and dust protection ensures stable fan operation even in harsh environments.
Note: The degree of protection (IP code) is defined by IEC (International Electrotechnical Commission) 60529 as below.
IP68:
・Complete protection against dust
・Protection against submersion in water
IPX8 Requirements:
When the power is off, the fan is submerged in water pressurized to the equivalent of 2 meters for 60 minutes.
Then it's run for 15 minutes at the rated voltage in free-air. During the test, there shall be no reduction in dielectric strength or fan characteristics.
No External Duct Required to Change Wind Directions
Blowers send out air in a 90° direction from the intake direction. They can change the direction of air without an external duct, contributing to reducing customer equipment size.
High Static Pressure for Cooling High-Density Equipment
Ducts in the outlet help create straight airflow with high static pressure. Blowers are suitable for servers and other compact, high-density equipment. By creatively revising the design of fan blades and frame, we realized high static pressure and low noise. We realized quiet fan operation by creatively designing impeller and frame shape.