Counter Rotating Fan
This fan features high airflow and static pressure, and is suitable for cooling equipment with high mounting density.
Lineup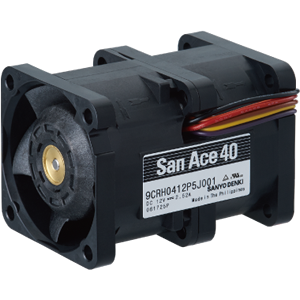 Developed in Response to Market Demands
Today's equipment is becoming denser and has less space to install cooling fans, whereas the amount of heat generated inside is becoming larger, requiring cooling fans with higher airflow and static pressure. To meet these demands, we developed Counter Rotating Fans.
Impeller and Frame Shape Optimized for High Airflow and Static Pressure
By newly designing fan impeller, frame, motor, and drive circuit, we have successfully improved airflow, static pressure, and efficiency.
Minimum Necessary Fan Speed Setting for Reduced Noise and Power Consumption
For PWM control compatible models, remote control of fan speed is possible. Customers can set the fan to its minimum necessary speed to further reduce power consumption and reduce noise.