San Ace Controller
This product is the industry's first fan controller that enables automatic speed control and remote monitoring of PWM fans.*
This controller can optimize airflow and static pressure of up to four fans by controlling individual fan speeds. Also, sensor measurements can be stored and used for automatic fan control, contributing to reducing noise and improving energy efficiency. Moreover, it enables remote monitoring and control of fans via a cloud server. Value-added features include fault detection and preventive maintenance measures for user equipment.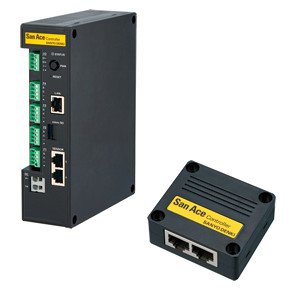 Preventive maintenance of equipment (IoT functionality)
Easy to connect to user's terminal devices. (Wireless LAN / wired LAN)
Enables users to monitor the status of fans and sensors from remote terminal devices.
Enables users to control the fan speed remotely via terminal devices.
Detects outlier sensor measurements and sends alerts.
Saves the fan's cumulative operating time and other fan measurement data to the cloud for later use.
Prevents heat problems with user equipment, contributing to reducing maintenance time and costs.
Low noise and high energy efficiency (Automatic control)
Stores temperature, humidity, and air pressure measurements for automatic fan speed control based on the setting conditions.
Makes fan cooling and ventilation more efficient, reducing noise and improving efficiency.
Optimized fan settings (Manual control)
Can connect and control a maximum of four fans, enabling different speed settings for individual fans.
Optimizes the airflow and static pressure of individual fans in multi-fan systems.
* Based on our own research as of February 19, 2019.