PWM Controller
The PWM Controller is a product that remotely controls the speed of a PWM fan. By using this product, PWM fans can be fully utilized without preparing a new circuit, contributing to reducing the system power consumption and noise level.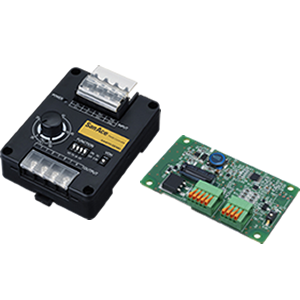 Contributes to Reduced System Power Consumption and Noise
This function achieves the optimum airflow by automatically making adjustments when needed. It therefore provides effective cooling of devices, reducing equipment noise and power consumption.
Three Simple Ways of Controlling Fan Speed
The PWM Controller integrates three control methods for fully utilizing PWM fans.
Voltage Control
By enlarging the scale from a narrow 0 - 5 V analog voltage to a large 0 to 100% PWM duty, this controller offers users precise control of fan speed.
Variable Resistor Control
With the Box type, users can control fan speed through the simple, intuitive action of turning a knob. Users can even control fans from a distance by adding an external variable resistor.*
Thermistor Control
Connecting a thermistor enables the fan speed to change automatically according to a preset temperature (between 30 and 50°C).
* Variable resistors and thermistors are to be prepared by the user.
Maximum of Four Fans Connectable
The controller can be common-powered by the fan power supply of rated voltage 12, 24, or 48 VDC, and no separate supply is required. Furthermore, up to four PWM fans can be connected and controlled.