Blower
With high static pressure, Blowers are suitable for cooling equipment with high system impedance and high heat generation such as servers, storage systems, and base stations.
Lineup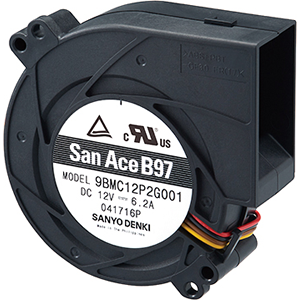 No External Duct Required to Change Wind Directions
Blowers send out air in a 90° direction from the intake direction. They can change the direction of air without an external duct, contributing to reducing customer equipment size.
High Static Pressure for Cooling High-Density Equipment
Ducts in the outlet help create straight airflow with high static pressure. Blowers are suitable for servers and other compact, high-density equipment. By creatively revising the design of fan blades and frame, we realized high static pressure and low noise. We realized quiet fan operation by creatively designing impeller and frame shape.