Splash Proof Centrifugal ACDC Fan
This is a Splash Proof Centrifugal Fan that can be driven by AC power. This fan has excellent waterproof and dustproof performance while achieving high airflow, high static pressure, low noise, and low power consumption as well.
Lineup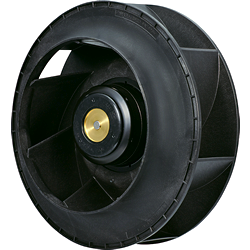 No DC Power Supply 2.Required
With an embedded AC-DC converter, these fans can be driven by an AC power supply.
This eliminates the need for a high-capacity DC power supply, reducing overall costs.
Low Noise and High Energy Efficiency
The PWM control function enables the control of fan speed, contributing to lowering noise and improving energy efficiency of devices.
Water and Dust Resistance
This fan has IP56-rated* water and dust protection. This ensures stable fan operation even in harsh environments.
* The degree of protection (IP code) is defined by IEC 60529 (International Electrotechnical Commission).
IP56:
- Protection against a level of dust that could hinder operation or impair safety
- Protection against high pressure water jets