Splash Proof Fan
Splash Proof Fans can be used in environments exposed to water. They are suitable for cooling PV inverters and other devices installed outdoors.
Advanced Search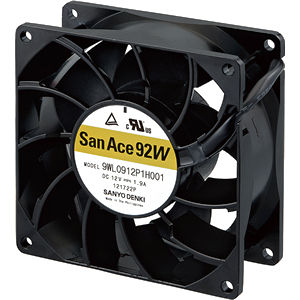 Water and Dust Resistance for Outdoor Devices
These fans achieve excellent IP68 or IP54 water and dust protection.
Water-resistant materials are used in the frame of these fans. Electronic parts are molded with resin to protect the live parts from water and dust.
Note: Protection rating of IP68: Complete protection against dust ingress; protection against submersion in water
Protection rating of IP54: Limited protection against dust ingress; protection against splashing water
Long Life with 180,000 Hours of Maintenance-Free Operation
These fans also have long expected lives of up to 180,000 hours without maintenance.* They demonstrates excellent durability even in harsh environments.
* When continuously operated in free air at 60˚C, rated voltage, indoors
Control and Sensor Options Available for Various Applications
For PWM control compatible models, remote control of fan speed in response to device conditions is possible. This realizes reduced power consumption and noise level.
We also have models with various sensors available including a pulse sensor for detecting fan speed and locked-rotor sensor for detecting the rotation stop of a fan.
* Availability of sensors varies by model. Contact us for details.
Contacts