Wide Temperature Range Fan
These products operate in a wide temperature range of − 40℃ to + 85℃.
They can be safely used in both low-temperature and high-temperature applications ranging from refrigerators and freezers to heat-generating lighting devices.
Lineup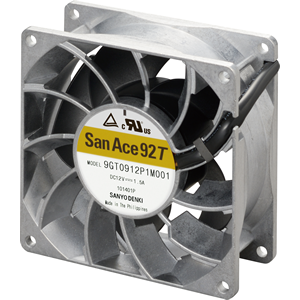 Wide Operating Temperature Range
Wide Temperature Range Fans can be used in a wide operating temperature range from -40 to +85ºC.
This wide range makes it suitable for many applications, from low temperature refrigerators and freezers to high temperature lighting equipment. With these fans, the San Ace lineup can now serve in conventional applications such as communications devices and PV inverters in even more demanding environments.
Expected Life of 40,000 Hours at 85ºC
The fan's expected life is about 40,000 hours at an ambient temperature of 85ºC.* It can contribute to extending the service life of devices.
* L10 life hours: 90% survival rate for continuous operation in free air at 85˚C, rated voltage