Oil Proof Fan
Oil Proof Fans maintain stable operation even in harsh environments with oil mist. They are suitable for use in machine tools and other factory automation equipment.
Lineup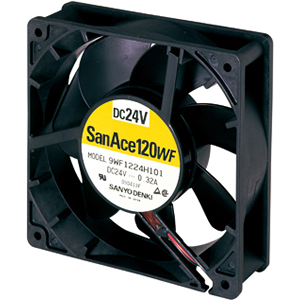 Sufficient Performance Even in Oil Mist Environment
SANYO DENKI's Oil Proof Fans use oil resistant materials in impeller and magnet parts to protect winding and electronic components. This ensures stable operation of fans in oil mist environments.
Highly Reliable in Oil Mist with 40,000 Hour-Expected Life
This fan achieves an expected service life of 40,000 hours* in oil mist environments. Even in harsh conditions with oil mist, it exhibits excellent durability and contributes to a drastic reduction in maintenance man-hours and costs.
* L10 life hours: 90% survival rate for continuous operation in free air at 60˚C, rated voltage.
Ideal Cooling Fan for Factory Automation Machines
This fan is ideal for cooling equipment required to operate in increasingly harsh factory processing environments, such as machine tools and industrial robots used in automated manufacturing factories.
Meets Changing Market Needs with Processing Technology
In developing oil resistant fans ahead of other companies, SANYO DENKI utilized know-how and technologies accumulated through repeated trial and error, which led us to successfully develop our highly reliable Oil Proof Fans. We will continue to meet changing market needs through our own outstanding technologies.