SANUPS M53A
Mobile power supply vehicle for use during power outages or other emergencies.
Both van and truck models are available.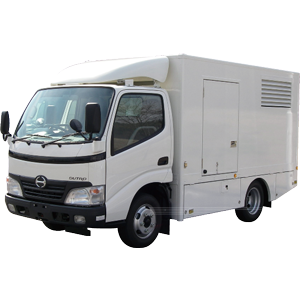 Wide Operating Environment
With an operating temperature range of -10 to +40°C, it can be used with confidence even in cold environments.
It's durable enough to withstand altitudes of up to 500 m above sea level.
Quick Power Feeding
With a connector-type power supply output, power can be supplied swiftly and safely.
Simply pressing the power start switch automatically completes the power supply preparation.
No Special Driver's License Required
The total weight of the vehicle is less than 5 tons, so only a regular driver's license is needed to drive.
Parallel Operation (Optional)
Up to 3 parallel operations can be performed to match the required power supply capacity.