SANUPS A22A
Highly Reliable Online UPS
Lineup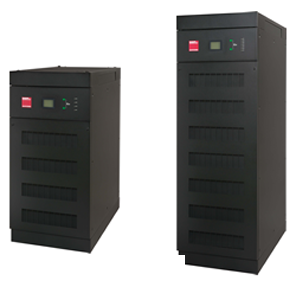 Industry's Highest Efficiency(1)
The SANUPS A22A achieves high efficiency levels of up to 94.5%. This reduces running costs and contributes to energy savings.
Flexible System Configuration
5 kVA modules allow users to select the output capacity to match the needs of the application.
By combining optional external battery modules, backup time during power outages can be extended.
High Reliability
The double conversion online topology ensures continuous supply of stable high quality power.
Parallel redundant operation further improves reliability of the power supply.
Wide Input Range
With a wide input voltage range of 240 to 460 V(2) and a wide input frequency range of 46 to 54 Hz,(3) the SANUPS A22A can deal with unstable power sources. This prevents unnecessary battery operation, minimizing battery drain.
Easy Maintenance
Front-access design allows users to install and remove battery and inverter modules easily.
Maintenance can be performed without interrupting the inverter power to critical loads during parallel redundant operation. In addition, power can continue to be supplied even if an outage occurs during maintenance.
(1) Based on our own market research as of September 11, 2018, among online UPSs on the market with equivalent voltage and capacity.
(2) Input voltage range value when input voltage is set to 400 V.
(3) Input frequency range value when input frequency is set to 50 Hz.