SANUPS A13A
Space-Saving, High-Efficiency Online UPS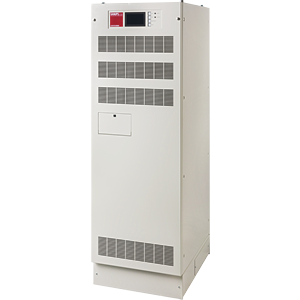 Features
High Efficiency
This UPS achieves a conversion efficiency of 92%, contributing to reduced power consumption and CO2 emissions.
High Reliability
By combining 6.25 kVA UPS modules, output capacity can be expanded to up to 25 kVA or up to 18.75 kVA for parallel redundant operation.
The parallel redundant operation allows one unit to be used as a spare unit, delivering a highly reliable and stable power supply to loads.
Industry's Widest Operating Voltage Range*
When the load level is below 80%, the UPS does not transfer to battery power until the input voltage falls below -30%, preventing over-discharge and degradation of the battery.
Its operating voltage range is the widest in the industry.*
Long Service Life
The expected life of the UPS has been extended from 10 to 15 years from its predecessor.
Industry's Smallest Footprint Required*
This UPS has the industry's smallest footprint per unit of output capacity.
Bypass Circuit Diagnostics (patent being processed)
Bypass circuit abnormalities can be diagnosed while the load is powered by the inverter.
If an abnormality is detected, the bypass circuit can be replaced without interrupting the power supply from the inverter.
Running diagnostics before maintenance work provides peace of mind.
 * Based on our own research as of August 31, 2023, conducted among UPSs on the market with the same topology, voltage, capacity, and backup time.
Applications
Data centers, telecom equipment, telecom infrastructure, production lines, and research facilities