SANUPS N11C-Li
UPS with lithium-ion batteries
Lineup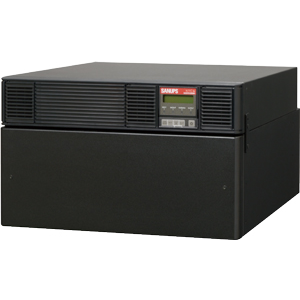 Wide Operating Temperature Range
Achieves an operating temperature range of -20 to 55°C.
This ensures a carefree operation even in harsh cold or hot environments.
Long Service Life
This UPS uses lithium-ion batteries, and the expected battery life is approximately twice as long as our conventional UPS(1) that uses lead-acid batteries.
This eliminates the need for battery replacement for 10 years,(2) reducing the maintenance work and costs.
Space-Saving
The volume is approximately 1/2 that of our conventional UPS,(1) enabling installation in smaller spaces.
High Efficiency
Achieves efficiency rating of 95% to save energy and help keep long-term costs low.
Easy Maintenance
The inverter module can be removed from the front of the power unit for easy maintenance.
A built-in maintenance bypass circuit allows maintenance to be performed while inverter power is being supplied.
Battery Cold Start Function
Batteries can start up the UPS even when grid power is not available, enabling inverter operation.
(1) Our conventional UPS: A11K (with lead-acid batteries)
(2) Assuming 30°C ambient temperature