SANUPS A11K
Double conversion online UPS ideal for servers and network environments
Even during power outages or voltage dips, the double conversion online topology ensures that high-quality power can be supplied without interruption. In addition, the SANUPS A11K can reduce battery drain and wear thanks to its wide input voltage range.
Lineup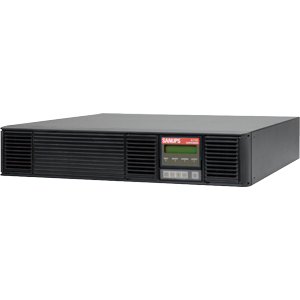 High Conversion Efficiency
An industry-leading(1) conversion efficiency of 92% contributes to reducing running costs and saving energy.
Automatic Battery Tests for High Reliability
Battery self-tests can be performed automatically at regular intervals, ensuring reliable operation in the event of a power failure. With a double conversion online topology, the power supply transfers to batteries without interruptions. By converting power from AC to DC and then back to stable AC through the inverter, high-quality power is always supplied.
Reduced Battery Drain and Wear
A wide input range of -40% and +20%(2) makes it possible to reduce the frequency of operation switchover to battery-feed operation even when the power source is unstable, as well as minimize battery wear and deterioration.
Easy Operation And Maintenance
Sequences for system start and stop can be configured with ease.(3)
The SANUPS A11K contains an integrated maintenance bypass circuit so that even when the inverter is stopped, inverter or battery replacement can be performed while the UPS continues to supply power.
(1) Based on our own market research as of February 26, 2015, among double conversion online UPSs on the market with equivalent voltage and capacity.
(2) When the load level is under 70%.
(3) For the 2, 3, and 5 kVA models, an optional outlet box is required.