SANUPS SOFTWARE
In the event of a utility failure, this software automatically and safely shuts down computers in connection to a UPS unit.
Also, it enables the UPS status management from computers. It provides power management solutions for systems consisting of a UPS and multiple computers in connection.
It may be used in IPv4/IPv6 network environment. (With some OSs, however, it only supports IPv4 format.)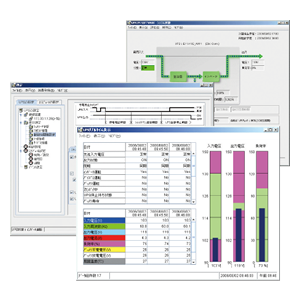 Automatic shutdown of computers (cross-platform support)
Shutdown of computers in power redundancy
Automatic computer startup at power restoration
Scheduled operations
UPS status display (Web browser, SSH, and Telnet compatible)
SNMP agent (RFC1628, JEMA-MIB, SANYO DENKI private MIB)
E-mail transmission and reception
NTP (Network Time Protocol) compatible
Download and upload of UPS setting values
Test functions (script execution, e-mail transmission, SNMP trap transmission,shutdown, mail server setting check)
Event notification to syslog server
Measurement value deviation monitoring (UPS internal information, ambient temperature/humidity*)
* Up to 16 temperature/humidity sensors
Statistical graphs display function
Enables the coordinated power management of up to 5 UPSs.