SANUPS W73A
This product converts the power generated by wind power and hydroelectric power generation systems to output 3-phase AC power.
Settings are easily configurable for optimum power generation.
The SANUPS W73A achieves a conversion efficiency of 93%.
Lineup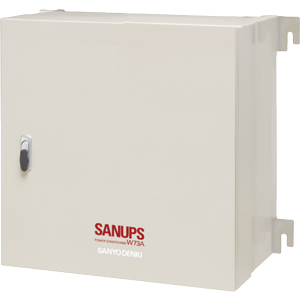 Easily Configuration for Optimum Power Generation
According to your generation system, the settings of DC input voltage-power characteristics can be freely configured to achieve efficient power generation at wind wheel or water turbine generators.
Conversion Efficiency of 93%
Excellent Environmental Durability
The W73A features superior waterproof and dustproof performance with an IP65 protection rating.
Salt spray test IEC 60068-2-52 Severity 6
No malfunction or performance reduction was observed after this testing under an environment equivalent to salt damage areas.
Note: Exterior discoloration and rust will not be covered by warranty.
Power Factor Correction Function
Output power factor can be set between 0.8 and 1.0 in 0.01 increments.
The rise in grid voltage can be easily suppressed by adjusting the power factor.
10 year equipment warranty program
The standard 1-year warranty can be extended to 10 years as needed (with charge).
Warranty conditions are contained in our terms and conditions.