SANUPS E11A
Energy-saving, highly reliable hybrid UPS
The SANUPS E11A series are hybrid UPSs that combine the efficiency of passive standby UPSs with the stability and reliability of double conversion online UPSs. In addition, since it always selects the optimal yet most eco-friendly power supply method, it has a significant effect on reducing running costs and CO2.
Lineup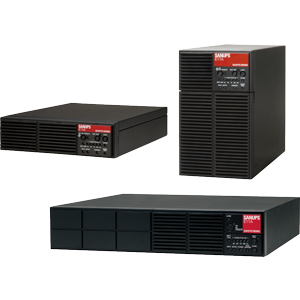 Automatically Selects the Most Efficient Power Supply Method
Depending on the conditions, the SANUPS E11A will automatically select the most suitable power supply method. When the load power factor is poor, "Active Filter mode" is activated. When the power supply is unstable, "Double Conversion mode" is selected. Conversely, when power conditions are stable, the UPS switches to "Economy mode." These enhanced modes benefit the user with a 47%(1) reduction in power consumption and CO2.
Automatic Battery Tests For Enhanced Reliability
Battery self-tests can be performed automatically at regular intervals, ensuring reliable operation in the event of a power failure.
Note: Battery test can be set by the user in intervals of 1, 3, or 6 months.
Simplified Battery Replacement
Front-access module design allows users to easily replace battery packs even during inverter operation.

Note: For battery replacement of 0.35 kVA and UL/CE models, please consult us.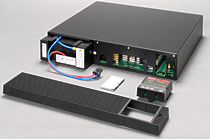 Intelligent UPS Controllable from a PC
By installing our Power Management Software SANUPS SOFTWARE, users can view the status of UPS, program auto-shutdown tasks, and check the battery status.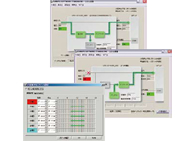 LAN Interface Card Creates a Wireless UPS
With the optional LAN Interface Card, users can enjoy the freedom of being able to shut down their computers, monitor the UPS, and confirm and configure task all through a wireless network.