PV Monitor Type C
PV System Status Monitoring Tool – SANUPS PV Monitor
Remote Monitoring of PV Systems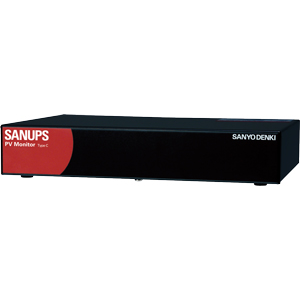 Easy Remote Monitoring of PV System Power Generation Status
The SANUPS PV Monitor remotely monitors power generation status. This device makes managing power generation status easy by graphically displaying the amount of electricity generated and collecting irradiance levels.
Email Alert Function
When a problem occurs in the PV inverter, an email will be automatically sent to the system administrator. Conversely, when a request e-mail is sent, the system sends information via e-mail regarding power generation or PV inverter status. The SANUPS PV Monitor conforms to SSL (Encryption Protocol), for enhanced security.
Wide Operating Temperature Range
With an operating temperature range from -25 to +60˚C, it can be used in environments with severe temperatures.
Note: Please contact SANYO DENKI if control output control function is required.