SANUPS P83E
100 kW PV inverter with 95% conversion efficiency.
With its wide input voltage range, this inverter can be used with a variety of PV panels.
This lineup features a grid-connected type and a type with an isolated operation function that supplies power even during outages.
Power factor correction function allows the output power factor to be set between 0.8 to 1.0.
Lineup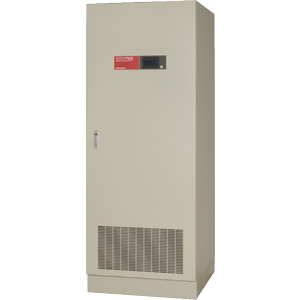 High Conversion Efficiency and Wide Input Operating Voltage Range
Achieves a conversion efficiency of 95%.
With its input voltage range of 240 to 600 VDC, this inverter can be used with a variety of PV panels.
Isolated Operation Function Supplies Power During Outages
The type with isolated operation function will continue to supply electricity to even during power failures. This is especially useful for supplying power to emergency equipment during emergencies.(1)
(1) The level of power supplied depends on the amount of available sunlight.
Power Factor Correction Function
Output power factor can be set between 0.8 and 1.0.
Rises in grid voltage can be easily suppressed by adjusting the power factor, eliminating the need to upgrade equipment.
Multiple Unit Control Function
This function automatically regulates the number of operating inverters based on PV generation level. (max. 5 inverters) This enables high-efficiency operation even when electricity generation levels are low.
Full Visualization of PV Power System
Users can keep track with generation data in real time using our SANUPS NET monitoring service.
This web-based service gathers, analyzes, and displays power generation data and compiles daily, monthly, and annual reports.