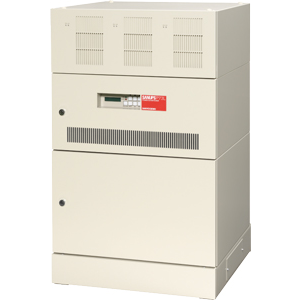 Peak Cut Function (Grid-Connected Isolated Charging Operation Type)
At nighttime, power can be stored in lithium-ion batteries and drawn upon during the day to cut daytime power consumption.
Isolated Operation Function Supplies 10 to 60 kW of Power During Outages
Power equipment can use electricity even during an outage by automatically or manually(1) switching to isolated operation mode because the PV inverter will supply power stored in the battery and generated by the PV system.
This grid-connected isolated charging type PV inverter can store surplus PV power to batteries.
(1) Factory default setting: Manual
System Configuration from 10 to 60 kW
The system is composed of stacked 10 kW units, allowing for compact systems of up to 60 kW.
Power Factor Correction Function
Output power factor can be set between 0.8 and 1.0 in 0.01 increments (configurable using the control panel). Rises in grid voltage can be easily suppressed by adjusting the power factor, eliminating the need to upgrade equipment.
MPPT During Charging/Discharging (Grid-Connected Isolated Charging Type)
The SANUPS P73L maximizes PV panel output using maximum power point tracking (MPPT) even during charging/discharging the storage battery or isolated operation.