SANUPS A23C
Double conversion online UPS
An uninterruptible power supply, or UPS, is an invaluable power supply measure which supplies reserve power during power outages or voltage dips to various kinds of mission-critical equipment. UPSs with double conversion online topology are designed for instantaneous supply of high-quality power. For this reason, they are used in various applications including server and network equipment for maintaining system availability and protecting IT assets and data.
Lineup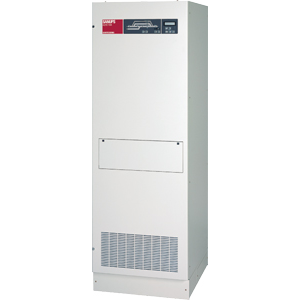 High Quality
Battery self-tests can be performed automatically at regular intervals, ensuring reliable operation in the event of a power failure.
Since these battery self-tests do not interfere with the rectifier, they do not affect the UPS even if the battery has degraded.
Battery test interval can be set by the user.