SANUPS D11A
Scalable, highly reliable inverter capable of parallel redundant operation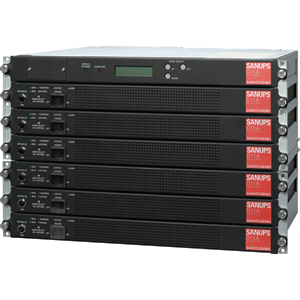 High Efficiency
Achieves conversion efficiency of 86.6%.
Contributes to saving energy.
Safe Bypass Function
Switching to the AC input bypass circuit provides safe, stable power during electrical troubles. (Type S)
Improved Reliability
The output is a pure sine wave.
A redundant (N+1) configuration with a backup unit increases the reliability of the inverter power supply. Individual control of units further increases reliability.
Simple Expansion
Up to six units (6 kVA) can be installed.
With parallel redundant operation, units can be replaced without interrupting supply to the load.
Units can be easily removed from the front of a cabinet designed for parallel operation.