SANUPS S11A
This device can constantly monitor two power supplies and instantly switch to the secondary power supply when dips or outages occur to ensure that power continues to be supplied to mission-critical server and network equipment.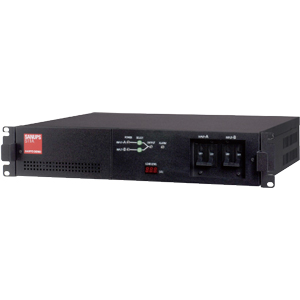 Highly Reliable Power Supply for ICT Equipment
The SANUPS S11A can feed two power supplies to servers, routers, or other networking devices that only accept a single incoming power source.
Uninterrupted(1) Switching
This device can instantly switch to the primary power supply.
(1) "Uninterrupted" is used in accordance with JEM-TR185.
Excellent Longevity and Availability
Using the auto-switching mode will ensure that each power supply are used equally.
The device does not require maintenance for 10 years. In the event parts need replacing, maintenance work can be done without interrupting the power supply to the load.