LAN Interface Card
With our LAN card installed in a UPS, users can confirm in real time the status of input/output power and battery status information, and remotely control and manage UPS operation.
Optional temperature and humidity sensors can be used to monitor the UPS environment.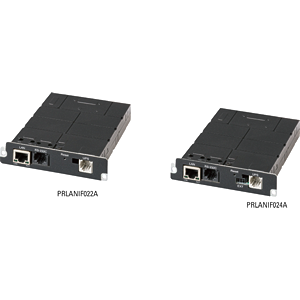 Status Monitoring
Input/output power and battery status information can be checked in real time. Notification e-mails can be sent to system administrators in the event of power outages, irregular UPS behavior, or when battery replacement is due.
Automatic Shutdown
Load equipment can be shut down through the network in the event of power failures, critical malfunctions, serial communication errors, and temperature alarms. Supports different OS platforms (Windows, UNIX, and Linux) and allows to shut down up to 50 machines.
Automatic UPS Start-up on Power Recovery
Automatic UPS start-up is available at power recovery caused by power failure. Wake-on-LAN (WoL) signals may be used to power on computers which cannot start with only the supply of the main power.
Monitors UPS Ambient Environment
Ambient temperature and humidity can be measured by the corresponding sensors installed in the UPSs. Eliminates the need for additional monitoring devices to save space Users can save space by simply connecting the sensors with a LAN cable. Temperature and humidity statistics can be viewed graphically in daily, monthly and yearly formats. The data can also be saved for easy management.
Contacts