SANUPS N11B-Li
UPS with lithium-ion batteries for outdoor use
This UPS is ideal for outdoor use thanks to its wide -20 to 50˚C operating temperate range. Incorporating durable Li-on batteries has helped reduce the frequency of battery replacement and keep running costs low.
Lineup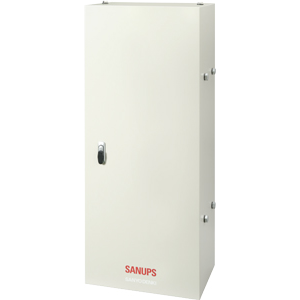 Reduced Maintenance Work
Built-in Li-on batteries eliminate the need for battery replacement for 10 years,(1) reducing maintenance work and costs.
(1) Assuming 25°C ambient temperature
Excellent Environmental Durability
With an IP65 protection rating, its waterproof and dustproof performance make it suitable for outdoor use. Designed with excellent environmental durability and a wide operating temperature range of -20 to 50˚C, this UPS can be installed in extremely cold and hot environments.
Also, its compact size allows users to select the installation configuration—whether free-standing, wall-mounted, or post-mounted—without headaches.