SANUPS A11J
Highly reliable and efficient double conversion online UPS
This highly efficient UPS delivers the highest level of reliability and flexibility in the industry. It is the ideal power solution to ensure the stable operation of mission-critical systems like data centers and servers.
Lineup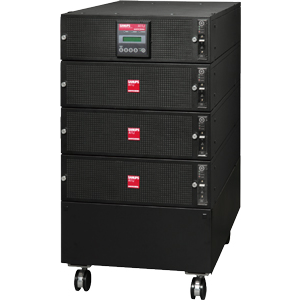 High Efficiency to Reduce Running Costs
This double conversion online UPS has been improved by about 10% compared to our conventional product, achieving an industry-leading conversion efficiency of 93%(1) compared to other companies' products.
The SANUPS A11J minimizes the running costs causes by unstable power sources—a source of trouble for some UPSs—while maintaining a highly reliable power supply, and contributes to energy saving.
(1) For 15 kVA fixed capacity types. As of August 2011. Investigated by SANYO DENKI.
Excellent Output Power Factor for Maximum Available Power
With increased performance and integration of IT equipment such as servers, storage, and routers installed in racks, power consumption per rack is on the rise.
The SANUPS A11J series delivers an output power factor of 0.9 to sufficiently supply power to high power factor devices. It is the optimal solution for small- to medium-sized server rooms.
Enables Scalability and Redundancy for Mission-Critical Applications
By connecting four 5 kVA UPS modules in parallel, users can select the UPS capacity in accordance with load requirements. The modular design of this scalable UPS allows for additional units to be added even after the initial purchase to match increases in load capacity. In addition, if an additional 5 kVA UPS unit is available to handle the load, the power supply will continue even if a blackout occurs during maintenance or battery replacement. In the event of a malfunction in one unit, the remaining units will continue to supply power. Such redundant (N+1) UPS configuration ensures system reliability and availability.
Battery Checks to Ensure Availability
Battery tests can be performed automatically at regular intervals, ensuring reliable operation in the event of a power failure or voltage dips.
Battery test without stopping the load (scheduled/manual)
Battery checks by periodically stopping the rectifier
The SANUPS A11J is also equipped with a full range of comprehensive management functions including battery life warnings, display for total battery operation time, display for battery charging rate, and possible backup time estimation.
Plus, when combined with a LAN Interface Card, such information can be centrally managed.
Small Footprint
With a height of only 3U for a 5 kVA unit (approx. 130 mm), the A11J is the most compact double conversion online UPS in the industry(2). It can be easily mounted to EIA standard 19-inch racks.
(2) As of August 2011. Investigated by SANYO DENKI.
Easy Maintenance and Reduced Running Costs
Maintenance has been made easy through the modularization of the inverter and batteries. A built-in maintenance bypass circuit allows maintenance to be performed while inverter power is being supplied. In addition, maintenance can be done quickly and easily by removing the batteries and inverter from the front of the device.