SANUPS A11K-Li
Double conversion online UPS with lithium-ion batteries

Lineup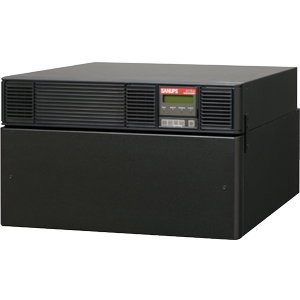 Wide Operating Temperature Range
With an operating temperature range of -20 to +55°C, this UPS can be used with confidence even in harsh cold or hot environments.
Wide Input Range
When the load level is under 70%, the input voltage ranges from -40 to +20%.
This helps reduce battery drain in regions with unstable power conditions.
Space-Saving
The volume is approximately 1/2 that of our conventional UPS,(1) enabling installation in smaller spaces.
Compatible with High Power Factor Loads
With an output power factor of 0.8, this UPS can protect high power devices such as servers, measuring devices, and medical equipment without the need for oversizing the UPS.
Output capacity is 1.2 kW at 1.5 kVA.
Decreased Maintenance Time
Our conventional products equipped with lead-acid batteries require battery replacement about every 5 years, but for these UPSs battery replacement is unnecessary for 10 years(2). Meaning the cost of battery replacement is far less.
Easy Maintenance
The inverter module can be removed from the front of the power unit for easy maintenance.
A built-in maintenance bypass circuit allows maintenance to be performed while inverter power is being supplied.
(1) Our conventional UPS: A11K (with lead-acid batteries)
(2) Assuming 30°C ambient temperature