SANUPS NET
This service enables you to remotely monitor the status of photovoltaic power systems via the internet. It makes maintenance easier, providing long-lasting peace of mind.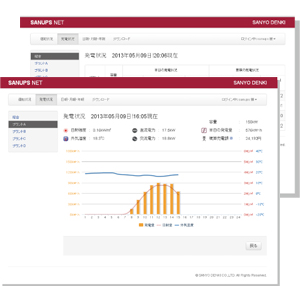 Greater Factory Visibility
Power Visualization and Information Management Services
With the optional SANUPS NET service, PV system status can be monitored from any smartphone, tablet, or computer with an internet connection.
On a dedicated webpage, users can download total generation statistics and view trend graphs(1) for generated electricity and current electricity generation in real time.
(1) Type of information display differs depending on the model of PV inverter and the installation of a pyranometer and thermometer.
Automatic Alarm Notification
System Information Management Service
If a problem occurs in the factory, operators can be notified via email.
Alarm history is stored on our secure cloud server to be viewed at any time.
Mobile Communication Pack
A wireless router and our remote monitoring tool are stored in an IP65-rated outdoor enclosure. Even in factory environments lacking an internet connection, users can access the services through a cellular network.
Output Control System Configuration
Using SANUPS NET will enable an output control system.