SANUPS P61B
This single-phase 3-wire 5.0 kW PV inverter can be used with various types of PV modules and deliver industry-leading power conversion efficiency. With its high reliability and excellent waterproof and dustproof performance, it improves the availability and security of any PV system.
Lineup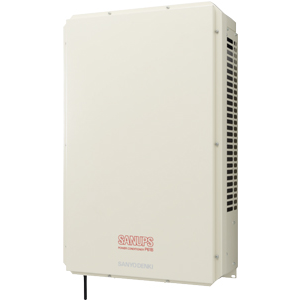 Excellent Environmental Durability
Its superior IP65-rated waterproof and dustproof performance makes it safe for outdoor installations.
The PV can safely operate in ambient temperatures between -20 and +60ºC. An addition weatherproof cubicle, enclosure, or shelter is unnecessary.
Note: It is recommended to install the optional sunshade if the inverter is used in locations exposed to direct sunlight.
Isolated Operation Function Supplies Power During Outages
Even during power outages, the inverter will continue to supply power to an isolated load can be provided if the PV system is operating.
Built-in Junction Box
Four circuits of PV panel inputs can be connected directly.
Long Service Life
With some parts replacement, the service life can be extended to up to 20 years.
Maximum Power Point Tracking Circuits
Two maximum power point tracking (MPPT) circuits allow optimal control of each connected string regardless of differing sunlight conditions or voltages. There is no need to match string panel numbers, making the inverter adaptable to a variety of system configurations.
Compared to a product with a single MPPT circuit, more generating power can be effectively drawn out from each PV cell. PV panels can be connected even if the number of series or manufacturers are different.
Note: Image for illustrative purposes only. Refer to the installation manual when performing connections.
Long Equipment Warranty
The 10-year warranty provides long, worry-free use. (Application required.) Warranty conditions are contained in our terms and conditions.