SANUPS P73H
This 3-phase 3-wire 10kW PV inverter can be used with various types of PV modules and deliver industry-leading power conversion efficiency. With its high reliability and durability, it improves the availability and security of any PV system.
Lineup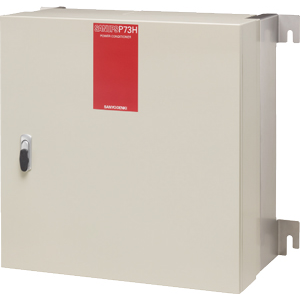 Industry-Leading Conversion Efficiency
The SANUPS P73H achieves an industry-leading conversion efficiency of 94.5%(1). This is a 2.5% improvement from our conventional model, made possible by completely reassessing the power loss in essential components and by developing a highly efficient and stable circuit. The main circuit adopts a non-isolated topology not requiring an isolation transformer. To maximize conversion efficiency, the conversion circuit is built with a soft-switching DC/DC boost converter and a three-level DC/AC inverter circuit.
(1) Indicates the rated load efficiency using the procedure for measuring efficiency based on JIS C 8961. (Excluding junction box circuit.)
Wide Input Voltage Range
With its wide input voltage range of 150 to 600 VDC, this inverter can be used with a variety of photovoltaic modules. "Maximum power following control" is available up to 550 V inputs. This function will constantly follow the so-called "optimum operating point" where the output power of the solar cell is maximized to match the output power, which fluctuates drastically depending on various factors including the season, time of day, and weather conditions. The SANUPS P73H comes standard equipped with both a junction box circuit (max. 7 circuit input) and a DC batch input circuit (external connection box is required).
IP65 Protection Rating Ideal for Outdoor Installation
Using cooling fans for forced air cooling could lead to unforeseen problems caused by contaminants like dust, moisture, or small insects. The SANUPS P73H employs a completely sealed structure for the live circuits and utilizes a heat sink to provide cooling, meaning a waterproof, dustproof IP65-rating can be attained.
In addition, the circuit components were reworked to extend the operating temperature range to -25 to +60˚C(2). This removes restrictions on humidity from the usage environment, making it a product that can be used outdoors securely in every region of Japan. In addition, with the replacement of certain parts, the service life can reach up to 20 years.
(2) Locations that are not exposed to direct sunlight. To limit any further temperature rise, the PV inverter will operate at a derated output if the ambient temperature exceeds 40°C.
Wide Array of Options
Using an external communication circuit, the SANUPS PV Monitor makes it possible to remotely monitor up to 27 inverter units in a PV system to collect and analyze pyranometer and temperature data, and view the quantity of generated power. An array of other options are available including a "weather shelter" for protecting the inverter from direct sunlight and a "junction box" for collecting power from multiple power conditioners.