SANUPS P73J
This high-frequency isolation PV inverter is optimized for large-scale PV systems, and PV systems connected to low-voltage networks. Its high reliability and superior durability make it suitable for long-term, outdoor installations.
Lineup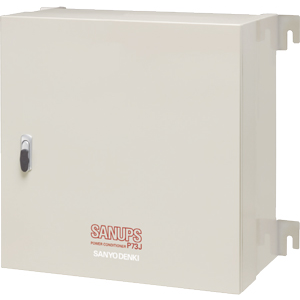 Excellent Durability
The PV inverter meets the IP65-rating(1) for dust and waterproof performance so it can be installed outdoors without worry. An additional shelter or enclosure to protect from the elements are unnecessary, making this PV inverter ideal for solar sharing.
(1) Ingress protection rating: IP65
Dust protection: No ingress of dust. Water protection: Protected against water spray from all directions.
In addition, with its wide operating temperature range of -25 to +60˚C, there is almost no limit to where this PV inverter can be used.
Top Class Conversion Efficiency
The SANUPS P73J achieves a top class conversion efficiency of 93.5%(2) compared to other PV inverters in the same class.
(2) Based on our own market research as of February 7, 2014.
Meets FRT Requirements
Meets the FRT (Fault Ride Through) requirements for operation in a 3-phase grid.
Power Factor Correction Function
The SANUPS P73Jis equipped with a power factor correction function to counter voltage rises in the grid in order to meet requests from utility companies to correct the power factor.
Power factor setting range: 0.8 to 1.0 (in increments of 0.01)
Options
PV Panel Multi-input Measuring Function
It is possible to measure the current of each string of PV panels (up to 7 circuits), enabling the early detection of drops in power generation.
10-Year Extended Warranty
An optional 10-year extended warranty is available. With some parts replacement, the service life can be extended to up to 20 years.
Note: Expected life of this unit assumes the average yearly temperature is 30ºC.